Welcome
Thank you for visiting my site.
Please feel free to browse my Portfolio and get a feeling of what I have done so far (only some works are displayed). Want to see what I do?

Please use a web standard compliant browser with JavaScript enabled. Try Firefox, Opera, Safary, Chrome or Iron. This is a hand coded site that I did and maintained by myself.
---
Recently added work
May 25, 2017
Added two more fonts on my fonts showcase site at florinf.ro/fonturi - Fonts page on FLORINF.RO. Click the image below for more info here on my Type Works page.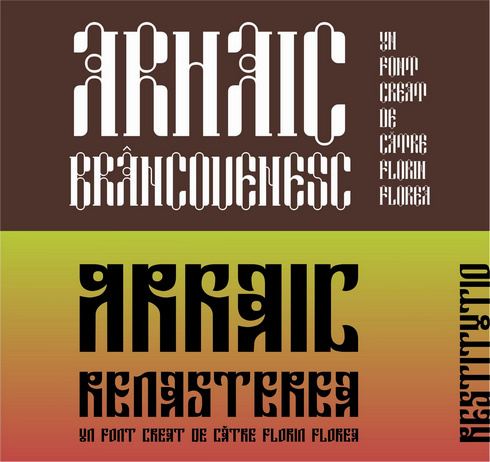 ---
June 12, 2016
I have created a new site FLORINF.RO for my fonts, espectially the Archaic Romanian ones. Please browse my fonts on my new fonts site.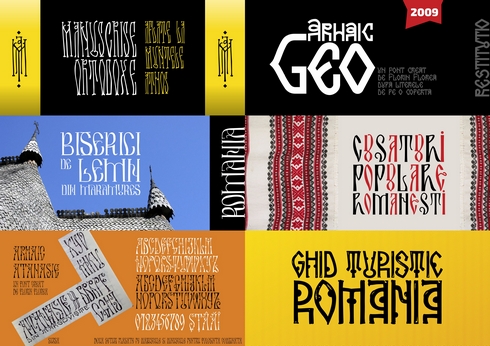 ---
---
What I do
I have worked mostly for print.
Logos, Visual Identities for companies, Brands for different products or services, sometimes a "Usage Guideline Manual" was done for them, as well as business cards and letterheads, envelopes and folders.
Posters, banners, meshes and big size images were done.
DTP / Page Layout works include from simple flyers or leaflets, to more complicated things like annual reports, products catalogs, brochures, magazine layout, book covers (even a poetry book of 400 pages was done) and many, many other works.
I enjoy drawing and I have done different types of works and illustrations, drawings, cartoons, and 3D renderings.
Created photo compositions and color correcting images or retouching them for most of the works that I did.
Web design, web layout or just image optimization for sites.
I also enjoy photography as a hobby and I'm very passionate about calligraphy and font creation lately (so there's a type page in my online portfolio).
This is what I do. Design in Cluj.

But there is more. Take a look at my Portfolio.
---
Who's Florin Florea?
Check the infos on about me page.
---
Feel free to browse my site. Thank you!
---